On the Influence of Neo-Nazism in Ukraine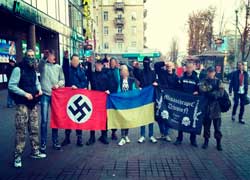 A short history of neo-Nazism in Ukraine in response to NewsGuard's charge that Consortium News published false content about its extent.
The U.S. relationship with Ukrainian fascists began after the Second World War. During the war, units of the Organization of Ukrainian Nationalists (OUN-B) took part in the Holocaust, killing at least 100,000 Jews and Poles. Mykola Lebed, a top aide to Stepan Bandera, the leader of the fascist OUN-B, was recruited by the C.I.A. after the war, according to a 2010 study by the U.S. National Archives.